24 Sept 2014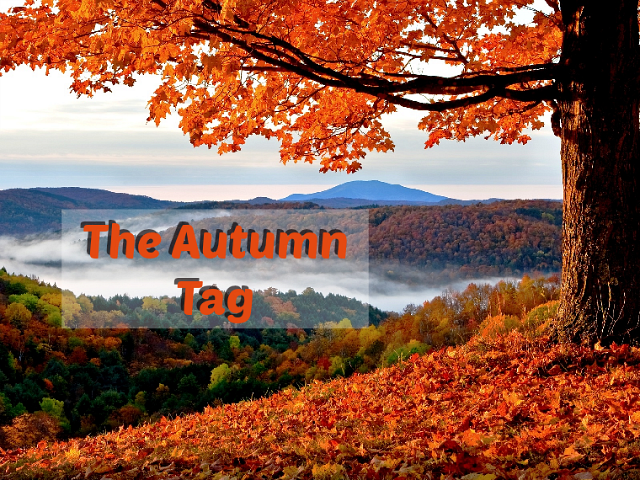 I was recently tagged by the lovely
Emma
to do the Autumn tag, so here it is! It has really got me in the mood for Autumn and the colder weather (even if I already accepted that Summer is over a while ago).
1. OK we're talking coffees - what's your favourite seasonal drink from Starbucks/Costa/Cafe Nero etc?
As you may know from previous posts, I'm not a big hot drink drinker, however I do love a caramel hot chocolate and I really want to try the Vanilla Spice Hot Chocolate from Starbucks.
2. Accessories - what do you opt for, scarf, boots, gloves?
All! I do however have a small obsession with boots and cannot wait to get wearing my boots again. Having said that, wrapping up in a nice warm scarf is always nice <3 Gloves are just a necessity as my hands are always SO cold.
3. Music - what's your favourite music to listen to during Autumn?
I can't say that my music taste changes throughout the year but I am all for a nice husky voice, acoustic music and generally anything that will make me will chillaxed.
4. Perfume - what's your favourite scent for this time of year?
In the summer I definitely tend to wear more fruity fresh scents, and in Autumn I reach for those warm, musky scents. My favourite this Autumn is definitely going to be the Nirvana Black (as mentioned
here
) as I am obsessed with it at the moment.
5. Candles - what scents will you be burning this season?
Definitely vanilla and spicy scents. One that I know I will be burning is the
Mahogany Teakwood
Bath & Body Works candle - it smells amazingggg.
6. What do you love most about Autumn?
I love wrapping up warm, feeling nice and cozy and watching a film or reading a book with a hot chocolate. I also love how beautiful the trees look and the rustling leaves on the floor. AND don't forget Halloween!
7. Favourite makeup look?
Autumn is all about the berry colours. Berry coloured lips, nails, even blush. I am not brave enough to have a bold dark lip, however I do like to experiment with a softer dark lip and love painting my nails a darker colour.
8. What are you looking forward to most in Autumn?
After this tag, everything! We are going to the Lake District next week and I look forward to seeing the trees changing and wrapping up warm in front of a cozy fire!
What are you looking forward to most about Autumn?
3 comments